22" x 16"
Black Prismacolor Pencil Crayon on Illustration Board
$125.00/us Framed
In 1984 I was taking a break from working at jobs that I did not like, and decided to try and produce some art until my funds ran out. One night I was having drinks with my friend Allan, and he kept asking me when he was going to see some of my work. I didn't have much to show at the time, and he kept egging me on and pestering me, so I decided to try and do his portrait.
Little did I know what I was getting into. I came across an artist who was doing clown images in a art magazine using pencil crayons, and the images were very soft, and I was amazed at the visual impact of pencil crayons and had never used them before.
The drawing took me about 200 hours to complete over 3 months, and was the hardest thing I had done in my life. I used illustration board, which has a very smooth hard surface. I managed to use about 10 black pencil crayons to compete the piece. I don't think that I will spend that many hours on a work of art in the future, it was quite a marathon.
If you would like to purchase the work, contact me at tkrysak@gmail.com for details.
I use Prismalcolor colored pencils.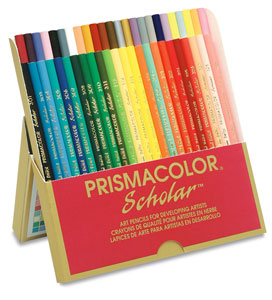 Would you like to learn how to draw? Check out the best book I know of below.